Saving Grace Donation Form
Saving Grace NYC is an independent 501(c)(3) devoted to the preservation and restoration of the landmark architecture of Grace Church.
Create an account or donate as a guest. Account holders will receive an email confirmation and a link to create a unique password. Keep this password and login to see your donation history.
Support
Make a gift now to preserve and restore Grace Church in New York.
---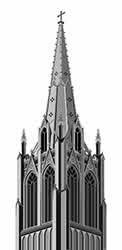 Gifts to Saving Grace NYC are tax-deductible to the fullest extent of the law. (EIN: 26-2363471)

802 Broadway New York, NY 10003